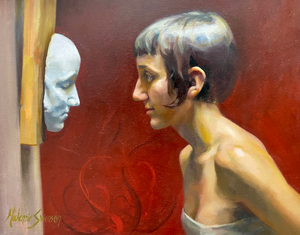 Mackenzie Swenson
Life Mask
Oil on Canvas
Bio
Mackenzie Lynne Swenson (b. 1992) is a Wisconsinite by nature and a New Yorker by necessity. She has been in pursuit of methods and patterns since childhood. Upon graduating from high school in 2010 this mindset led her to seek out Atelier training. Mackenzie graduated in 2014 from The Atelier in Minneapolis, MN. This was followed by 4 years of intensive study at the Grand Central Atelier in New York City where Mackenzie graduated in the spring of 2018.
Mackenzie has exhibited across the US, is a 2015 Hudson River Fellow and a 2017 La Napoule Art Foundation Fellow. She is a three-time winner of the Art Renewal Center Scholarship Contest and the recipient of many other awards and scholarships including those from the Alice M. Stolpe Foundation, the Grand Central Atelier, and the Morris and Alma Shapiro Fund. 
About the Artist
Mackenzie's formal introduction to art began at 13 in her hometown of Siren, WI.  She had the privilege of taking a year of painting lessons with artist, Richard Fike. Soon after, Mackenzie began weekly drawing classes with Minneapolis artist Brian Lewis at The Atelier Studio Program of Fine Art in Minneapolis. Thanks to the support of her father, Mark, (who made the weekly three-hour round trip without complaint) Mackenzie attended weekly classes at The Atelier for the next two years.

In 2010 during her senior year of high school, Mackenzie took part in thePhipps Center for the Arts high school competition in Hudson, WI. Out of hundreds of entries, she was awarded first place, as well as the Alice M. Stolpe Scholarship for her painting, Norse Reverie. Soon after, she made the decision to attend The Atelier to pursue a career in fine art.
Mackenzie attended The Atelier Studio Program of Fine Art studying with Dale Redpath, Cyd Wicker, Kim Monahan Dady, Laura Tundel, and Jeffrey Larson, graduating in the spring of 2014.
In addition, Mackenzie has engaged in museums around the world—The Louvre and Musee d'Orsay in France, The Zorn Museum in Sweden, and numerous museums throughout Belgium, including the Rubens House and the Royal Museum of Fine Arts. 
During the summer of 2014, Mackenzie attended a workshop at Grand Central Atelier in New York—Portrait Painting with Scott Waddell. This experience greatly impacted her, and prompted her to relocate to New York. Mackenzie studied over the next four years with renowned artists such as Jacob Collins, Colleen Barry, Will St. John, Joshua LaRock, and Edward Minoff. 
Mackenzie is a 2018 graduate of the Grand Central Atelier, residing in New York City as an artist and instructor at the Grand Central Atelier.