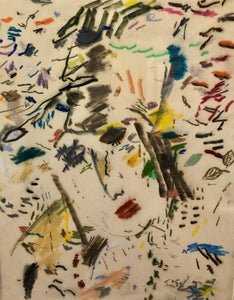 Masks by Jamali (B. 1944)
43 Inches x 37 Inches
French Pastel on French Paper
Completed on February 16th 1994
Frame is silk pongee with gold bevel, 22K Gold Leaf frame, Custom made, antique finish.

Jamali's works are displayed in over 9,000 public and private collections worldwide, which serve as a testament to his 100+ successful one man shows over the last three decades. He is acknowledged as the originator of Mystical Expressionism, which is the ritualistic/meditative dance in/on the painting surface and the collaborative union between painting and the forces of nature. This is an avant-garde artist with many important global figures backing his works.

Certificate of Authenticity provided.
We will hand deliver this painting to your doorstep, free of charge. Thank you for choosing Atlantis Fine Art LLC for your Fine Art purchases.