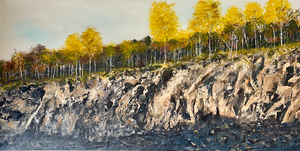 Wolf River Batholith
Jo Burke
Local Artist from Eau Claire, Wisconsin.

Jo has interests in painting, sculpture and textiles. She has worked on many art projects with students and has displayed her own work in public spaces including JAMF, the Lismore and the Pablo Center. She has ventured into sculpture, showing a piece outside Mayo Clinic as part of the Sculpture Tour.