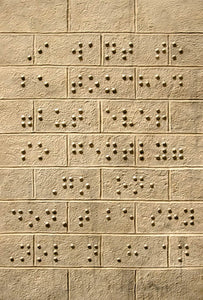 A cinder block wall that wants to be touched
Braille Translation: "I want to be touched (but ever so gently). Go on, don't be shy."
Nolan Haan
Acrylic on Silk, Mounted on Panel
72 Inches x 48 Inches


This painting is part of the artist's "Futility of Envy" series. The series consists of cinder block walls that want to be something they are not. Everything you see painted is an illusion. The only texture is the paint itself.
Nolan Haan paints on silk. Because its surface is smooth, the illusion of cement is not compromised by the texture of canvas.  He incorporates brushes, rubbing, and spray paint to transform the luxurious fabric into concrete. No computer, printing, silk screen, image transfer, or photographic techniques are ever used. He is based in Fort Lauderdale, Florida.
Nolan's paintings are in art collections throughout the world. They have been shown in museums in many countries and have won numerous awards. In 2010, he won the South Florida Cultural Consortium Fellowship for Visual Arts. His painting "Monday" is included in the permanent collection of the Frost Art Museum, Miami. 
Thank you for choosing Atlantis Fine Art LLC for your fine art purchases.