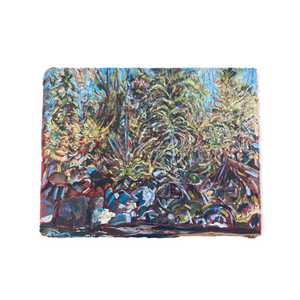 Anders Shafer
Bright Riverbank
Acrylic on Paper
22 Inches x 30 Inches

Born in Bucyrus, Ohio, Anders Shafer grew up in Fayetteville, Arkansas, Paris, France and the suburbs of Washington, D.C.. After completing courses in painting and drawing at the University of Iowa (B.F.A.) and the University of Cincinnati (M.F.A.) he settled in Wisconsin. He is Professor Emeritus of the University of Wisconsin-Eau Claire where he was Max Schoenfeld Distinguished Professor. He currently paints full-time in an old rubber tire factory while teaching Advanced Life Drawing at night.

Shafer's paintings and drawings have been exhibited in over 250 national and regional competitions of note. He has been represented by galleries in Chicago, Sacramento and Washington D.C. where he had five one-person shows at Gallery K. His work is part of the public collections of a number of museums including the Portland Art Museum in Portland, Oregon and the Sheldon Museum in Lincoln, Nebraska. Among his awards is one of the first given by the National Endowment For The Arts. Shafer is the author-illustrator of "The Fantastic Journey of Pieter Bruegel" (Dutton,2001) which won many national and international awards.